Well I have to say I LOVE MY PRO MARKERS!I'm just about to order some more from Silly Monkey Crafts (who have 10% of everything right thru Bank Holiday Weekend by the way!) because I just cannot get enough of them. I think I might ask for the whole set of 92 for Christmas...!
So anyway I've been using my PMs at every opportunity so here's some cards I made last night using my beautifully coloured images (if I do say so myself, lol)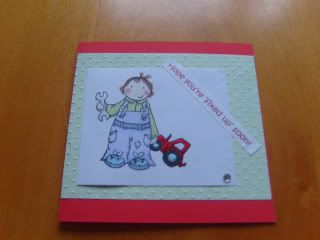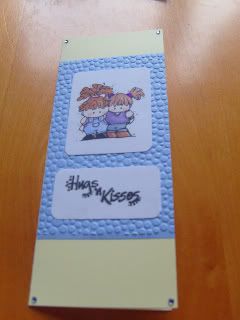 The top one is a Hamish stamp from Sugar Nellie, with cuttlebug embossed card and a printed sentiment. (I've just noticed Hamish isn't stuck down properly, off in a sec to fix that!)
The middle one is a Whipper Snapper stamp 'Best Friends' and a 'Hugs n Kisses' stamp, cuttlebug embossed card and gems from my stash.
The bottom one is an Elzybells stamp (can you see the shiny glaze I put on ducky??! I love this stamp, its soooo adorable!), blue card stock, glitter card from DCWV, Dymo sentiment and gems from stash.
Also wanted to say thanks to all the visitors to my blog and those of you who comment - I'm trying to find the time now to visit all your blogs and check out your fab creations!!