Took part in my first friendship image swap on Trimcraft this week. My swap partner let me know today that she received it so I know its safe to post!
Here's the card I sent to my swap partner: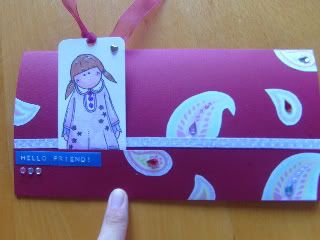 I'm not sure why the pics all have a bluey tinge...! Anyway its red cardstock, scored and folded using my fab Wonderboard! Image is Sugar Nellie, kindly sent to me a buddy on Trimcraft. The paisley is cut from a K&Co sparkly sweet paper. I then stuck gems on to the pattern. The sentiment is Dymo.