This week at Magnolia v Stampavie (only the 2nd week of the new combined challenges!), the theme is 'Keep it simple', nice clean lines and no more than 3 colours to be used.
I hope my card below qualifies!! Its certainly simple and I've stuck to 3 colours (red, brown and green.....although I've used several different shades of them).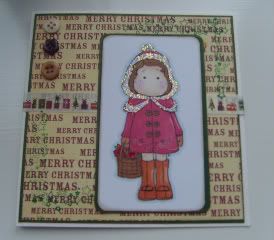 I can't believe I've actually managed to capture the sparkle round her hood!
Image: Tilda with hood, coloured with Promarkers, gel pen and stickles, mounted onto green bazzill and inked with a gold ink pad. The paper is from a Crafters Christmas Resource book I bought. Then added a sticky ribbon and stamped a starry snowflake border in green. Finally added three buttons from my Woodware 'coffee and cream' pack.
Thanks for looking