Well I have been a naughty blogger, no cards for about two weeks now! But I'm off work this week - the Dr signed me off due to a nasty wisdom tooth extraction on Friday - so plenty of crafting time!
My new Magnolias arrived yesterday from their new 'Pink Collection', I ordered three 'people' and one accesory, and I made some cards with them today so I will be showcasing them in the next few days.
Here's the first, 'Pink Tilda with rose'.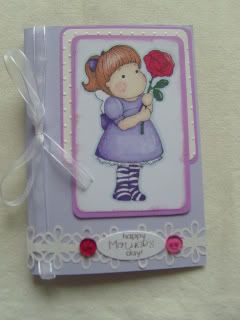 Isn't she gorgeous??! I'm really pleased with how my colouring came out but unsure of the card overall. Anyway this is also my entry to Cute Card Thursday, which was the fab theme of 'Buttons and Bows'. I know its an age til Mothers Day but everytime I look at this image I picture her peeking up at her mummy with a rose in her hand!!
Image: Pink Tilda with rose, coloured with promarkers and gel pens. Inked round the edge.
Mounted onto bazzill CS, cuttlebug 'swiss' dots folder also mounted on bazzill. Die cut border
from a swap, buttons and ribbon from stash, sentiment from craftwork cards.