The Spoon full of Sugar challenge was to create anything but a card. The DT entries are totally gorgeous - you can find the link in my sidebar.
You can now also use ANY stamp you like so I decide to use one of my new Spiral Whisper stamps to create a bookmark.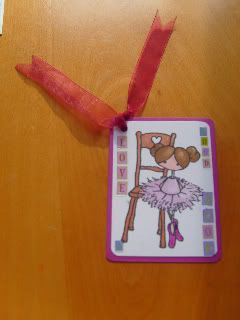 Quite simple but I like it.
Stamp: Martha Ballerina from Kerry Steptoe @ Spiral Whisper, ProMarkers, gel pen and glaze pen. Mounted onto pink card from Paper Mill. Ribbon from Dovecraft. Stickers are Papermania and read 'Love a Good Book'.