Yes its another Christmas card! You can tell its that time of year again, all my posts from now on will likely be Christmas cards ;-)
This one was nice and simple to make.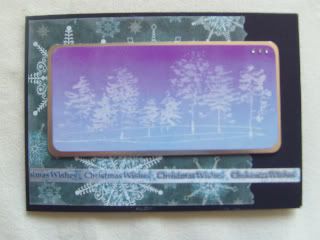 It was made like this - cut an A6 black card blank in half. I can't remember where the packing paper is from....possibly a DCWV pack, I inked the edges of it with a white ink pad and trimmed one end with my fancy scissors. The image is a Penny Black stickeroo. Topped off with a sparkly ribbon (Dovecraft I think!) and some Papermania adhesive gems.
Thanks for looking!